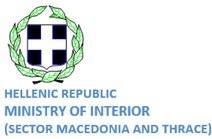 Thessaloniki, July 16th 2021
PRESS RELEASE
3rd BALKANFORUM 24-25 September 2021
The 3rd Balkan Forum will be adapted to the new data. The topic of this year's Forum is "SUSTAINABLE DEVELOPMENT OF THE BALKANS IN THE AFTER COVID ERA" and is scheduled to be held on September 24-25, 2021, at the Conference Center "I. Vellidis "of TIF, with a new design according to the recent health protocols.
For another year, the Hybrid conference model will be followed as a combined physical and online presence event. There will be Live Streaming in Greek and English. Targeted B2G online meetings will take place in parallel with the presentations
The Forum is organized by the Macedonia and Thrace Sector of the Ministry of Interior under the auspices of the Ministry of Foreign Affairs in the framework of the Presidency of Greece in the South-East European Cooperation Process (SEECP).
For more information and for your participation / registration, visit the official website of the conference http://balkanforumthess.mathra.gr/el/or the website of the Ministry http://www.mathra.gr.